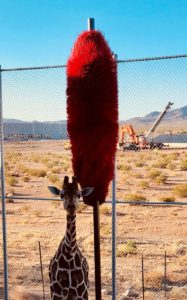 Remember Ozzie? Our lovable giraffe friend at the  Lion Habitat Ranch in Las Vegas? For a quick refresher: this giraffe is one of the most popular attractions at the Lion Habitat Ranch. He's become famous for his works of art he paints for visitors at the ranch. If you remember, Ozzie loves using one of our very own brushes as his scratching post. In fact, he loves using it so much that he's completely worn the brush down from all his scratching!
Just to remind you, our brushes at Smith Equipment aren't like any ordinary brush. Our brooms are built to withstand copious amounts of pressure for long periods of time. So if he's already worn down his brush, that really goes to show how much he cherishes his Smith Equipment scratching post!
"What's better than one brush?" Ozzie says, "two brushes!" Yep that's right! Since Ozzie wore down his first brush so quickly we'll be making TWO brooms for our star artist in Vegas so he'll be able to satisfy all his itches to his heart's content.
We're so excited to partner with such a unique customer like Ozzie and his awesome owner Keith. And Ozzie to you we say: may your bristles be straight and your brush be full my friend!