What kind of strip brush are you needing? We can separate most requests into these three basic categories.
Strip Brush Customization
Strip brushes are a dynamic sweeping brush that can handle a wide range of jobs. Smith Equipment's strip brushes are available in a variety of sizes, shapes, filament material and overall lengths to meet your exacting needs. Strip brushes are customized to each job they perform. While all strip brushes are made in a straight channel, they can be bent and wrapped in various styles for nearly any job application. Most strip brushes are made with a metal backing. These particular strip brushes are the workhorse of the industry and can be seen in businesses like logistical sorting and routing, industrial material handling and sorting, food prep and processing and general manufacturing. Staple set brushes are also discovering new uses as their plastic cores and modular strip replacement features make them a viable economic option.
General Strip Brush Applications:
cleaning, sanding, and polishing
shielding and blocking
product guiding
splashguards
deburring
static control
Specialized Strip Brush Applications:
Strip brushes have a wide variety of use due to their customizable nature. You'll see them working with:
seals for industrial steel rolling
commercial and industrial sliding overhead and sectional doors
remove footprints and other depression artifacts from carpets
seal gaps and cavities for expandable RVs, trucks, and cabs
stops sprays and mists from escaping their intended compartment (for manufacturing lines and related business)
seal industrial finishing systems
cleans spray and water distribution system channels, orifices, pipes, and other related surfaces
Mounting Options
We use flat and angle iron segments to aid with mounting. Angle iron can be mounted in different directions on the channel. The end use of the strip and the physical location will determine how the brush will be mounted. We'll ask for your specifications and help guide you through the process to ensure you get what you can use.
Strip Brushes for Strip Brooms
Airport sweeping and maintenance requires a heavier hand in sweeping power. These multi-ton sweepers utilize strip brushes made in a staple set. If your considering using Smith Equipment strip brushes for your airport sweeper, contact us. We'll customize each strip precisely to your brush core and ensure you get what's needed.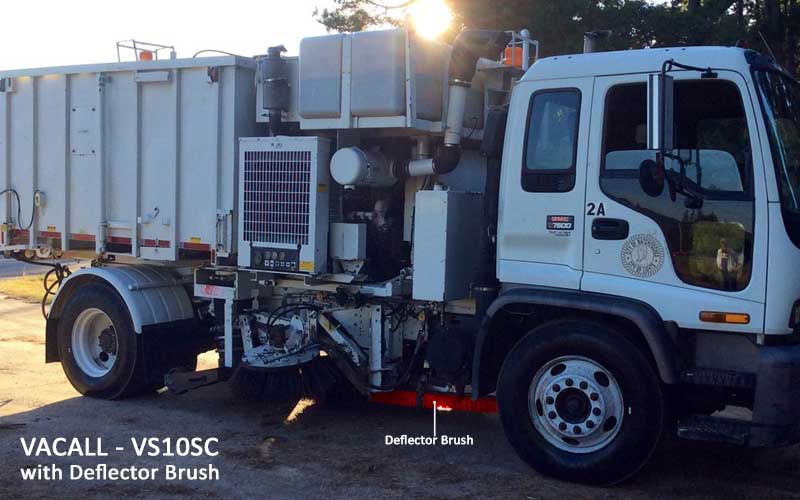 Seen above is the Vacall VS10SC. This particular sweeper employs a dorsal mounted deflector brush that is designed to push street debris into the vacuum tube and gutter brush on the side that's in use. Deflector brushes are mounted in different locations for different sweepers. No matter what your need is, we'll customize our strip brushes to fit your application. Contact us today and let our expert staff help you customize the perfect strip.