Sweeper Attachments
for Tractors, Skid Steers, Loaders, and more!
Sweeper Attachments are our passion. We've been making sweeper attachments for skid steers, tractors, and loaders since the 1988. When you need a quality sweeper attachment that won't quit, you need a Challenger 1 Sweeper. Capable of supporting over 5,000 pounds of load, this is one of the most durable sweeper attachments available.
The
Challenger 1
is compatible with a multitude of utility vehicles including skid steers and loaders!
Sweeper attachments
undergo extreme stress during use. When the military needed sweepers, they had their engineers inspect the Challenger 1! The sweeper frame supports at or over 5,000 pounds of load where competing sweeper frames could barely support 800 pounds. This level of quality construction ensures the skid steer attachment will last longer than any other competitor. We manufacturer our sweeper attachments to be operational in any conditions from Florida's humid sun to the most frigid Michigan winters.
Sweeper Attachments
Skid Steer, Tractor, and Loader Attachments Made in the USA
Dynamic and Dependable
The Challenger 1 Sweeper attachment is built to exceed the needs of any application from the hot humid coast to the rigid and frigid. These sweeper and skid steer attachments are specialized for lawn dethatching, road sweeping and reclamation, snow removal, runway maintenance, and more. We wanted to ensure our sweeper attachments were compatible with the best brands on the market. For bobcat attachments, you won't find a better quality sweeper. The Challenger 1 showcased the quick change broom system. It allows for tube brooms changeovers to be completed in less than 2 minutes with 1 man and no tools.

The sweeper attachment also comes with an electrically controlled, hydraulically powered float system. The float system protects the broom from having too much down pressure applied. It's designed to maintain down pressure at a constant rate throughout the sweeping project. Combined with our expert engineering, the Challenger 1 sweeper is one of the best bobcat attachments you can get.
How our Attachments make you money.

Years ago, quick change systems didn't exist. When a broom on a sweeper attachment got worn out, it took a team of technicians and a small army of tools to disassemble the attachment to change the broom. Changeovers took hours. During that time your job's not getting done, and you're paying more in labor and getting less ROI. Changeover times were a problem.

Enter the Challenger 1 Sweeper. Our sweeper attachment's claim to fame was it's quick change brush system. This quick changeover capability was enough to rocket Smith Equipment into the spotlight as having invented the world's first quick change sweeper attachment. Hydraulically powered and electrically controlled, the Challenger 1 has an quick change arm that swings out and drops the broom after use.

Changeovers with the Challenger 1 Sweeper literally take less than 2 minutes, 1 man, and no tools. This saves any company money in labor, job time, and return on investment. Use the Challenger 1 enough and it pays for itself in the time savings alone!
Sweepers for Bobcat
American Made - Sweep up the Competition
The Challenger 1 Sweeper was the first of its kind in quick change broom technology. Pioneered by Smith Equipment, the Challenger 1 is the flagship sweeper of Smith Equipment and has unique features like a hydraulic float system, a pylon mounted electrical control box, and rugged construction that can support over two tons of load.

Bobcat attachments are perhaps the most common and widely used sweeper attachment available. We decided to engineer our Challenger 1 sweeper to be compatible. It is a high quality skid steer attachment that is compatible with skid loaders, tractors, municipal vehicles and more. All Challenger 1 Skid Steer Attachments are proudly made in the USA.


NOTE: If dust is a concern, consider a bar mounted spray system with varying tank sizes.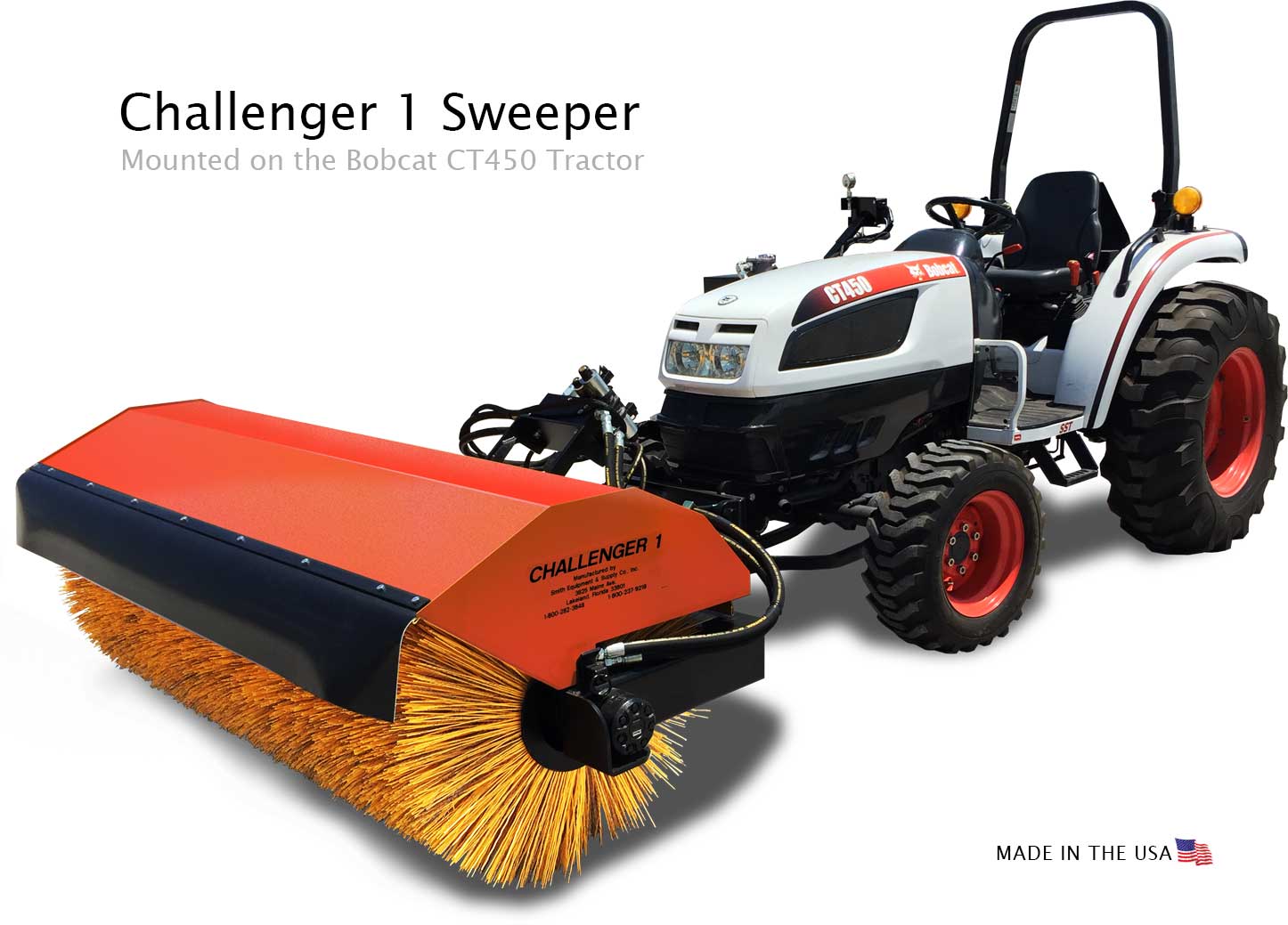 Bobcat and Skidsteer Attachments
Bobcat Attachments meet the Challenger 1 Sweeper
Bobcat is one of the most used brands of construction vehicle. They manufacture a wide range of tractors, skid steers, loaders, and a large variety of bobcat attachments. Bobcat's tractors, skid steers, and loaders and designed to work in nearly any climate or condition. Their multi-purpose design allows modular compatibility with most attachments. Bobcat tractors have many standard features like suspension seats, tool boxes, lights, cruise control, and flasher signals.

Bobcat Attachments are made to the highest quality as they're used in climates varying from the arid Arizona desert to the snowy roads of Michigan. Bobcat Attachments are built to last. The Challenger 1 Sweeper from Smith Equipment is one of those Bobcat Attachments. The Challenger 1 Sweeper can be attached to skid steers, tractors, and loaders.

The Challenger 1 is a multi-purpose bobcat attachment as it's well suited for snow removal, lawn dethatching, soil aeration, road reclamation, runway maintenance and more. The Challenger 1 comes with a custom hydraulic float system designed to maintain consistent down pressure on your sweeper brush. The patented quick change system allows for changeovers to be completed in under 2 minutes with 1 man and no tools.
Bobcat and Skid Steer Solutions
See all tractor, loader and skid steer attachments

Ask about color choices for your company's brand on your next Challenger 1 Sweeper purchase.