Wafer Brushes for Sweeper Attachments
Smith Equipment specialists in manufacturing industrial wafer brushes. Wafer brushes fit on a wide variety of sweepers for various applications from parking lot maintenance to runway snow removal.

To better help our customers find the right wafer brushes for their corresponding sweeper, Smith has included some of the major sweeper brands common to the industry.

Even if you have a sweeper brand that's not listed, we can still make wafer brushes for it! Contact us today for details.
Things you'll need to know to order wafer brushes.
| | | |
| --- | --- | --- |
| Broom Length (indicates number of wafers needed) | Inner Diameter (inner core size, diameter of channel) | Outer Diameter (outer filament diameter, circumference of brush) |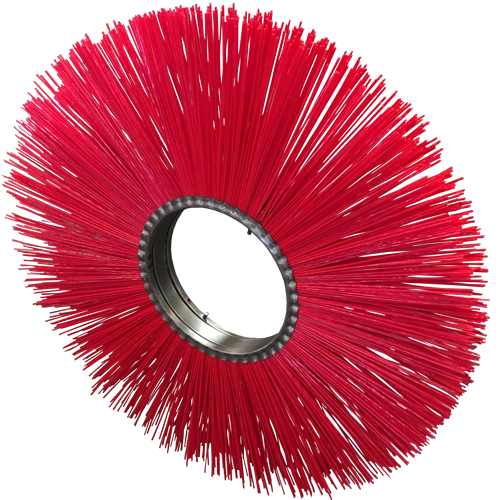 Order Industrial Wafer Brushes
We offer wafer brushes with polypropylene, steel wire, or a combination of both.
Filaments and Use
There are two main filament choices for most wafer brushes: polypropylene and steel wire. Polypropylene offers a softer filament that won't cut into the harder road surfaces. Poly bristles are ideal for runway sweeping and sensitive applications where metal debris cannot be left behind. Our steel wire is offers a more abrasive option and allows for more "cutting power" to be attributed to the broom. These highly abrasive brushes are well suited for heavier industrial applications like metal finishing and well cleaning. We can also offer a combination of both poly and steel filaments. Using both filament types gives you the added benefit of something harder than poly but softer than steel wire. It is best suited for applications like road resurfacing and construction.