Making Tube Brooms since 1965
We've been manufacturing sweeper brushes and tube brooms for over 50 years. Founded by James Smith in 1965, the Smith family has become a sweeper brush power house in the south east servicing clients in the U.S. Military, municipalities, parts distribution centers, dealers, end users, and more! Tube brooms come in a wide variety of styles and sizes. Most of our industrial tube brooms are for sweeper attachments and vehicular sweepers.

All tube brooms are made with a cold-rolled steel core. Bristle filled channel is then welded onto the broom core. The core turns while the channel spirals around it. The direction of the spiral is important as it pushes dirt and debris in the direction of the bristles. We also attach square or round lugs depending on the type of broom you have. The drive lug gives the broom's flange or arbor something to make contact with while the sweeper is active.

We don't stop there! Our custom machine and fabrication shops allow us to specialize any broom core for any sweeper. Some tube brooms require extra plating or drill holes to be mounted correctly. Give us your measurements and we'll ensure your brooms are made to your exacting specifications.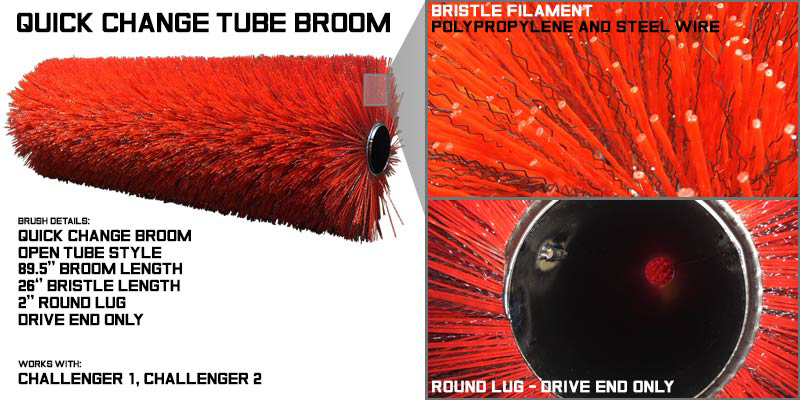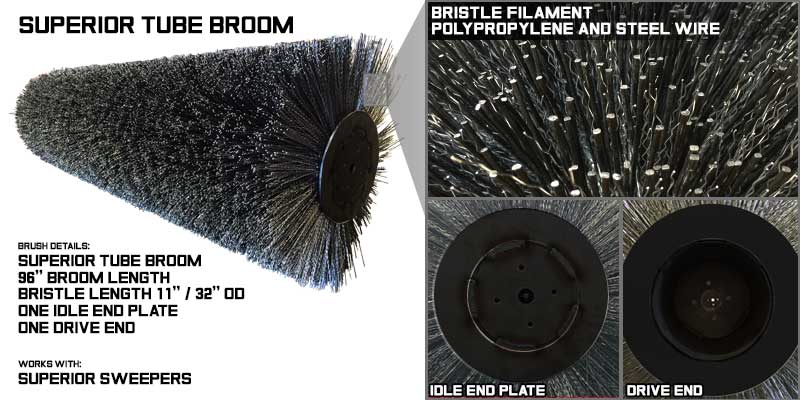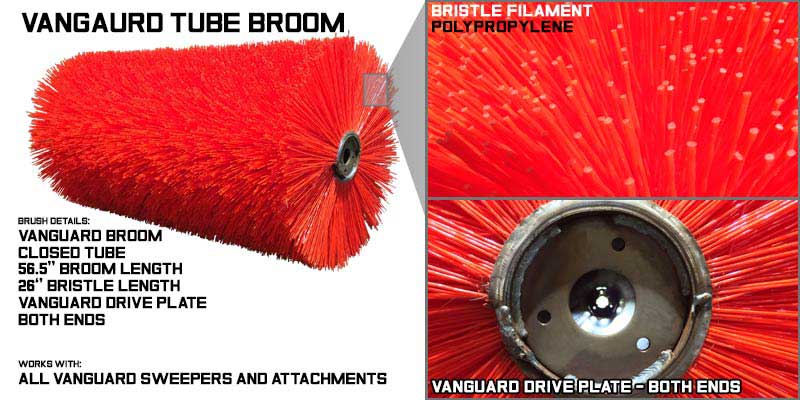 Tube Brooms and Sweeper Brushes
If you don't see the broom you want, contact us directly
here
. We can custom make any brush or broom for any application. Call us and learn more today!
Elgin
Challenger
Challenger Sweeper Attachment
(Quick Change Brooms)
Military Only - Challenger Brushes
Gravely
Johnston
M-B Co.
Mobil
Schwarze
Sweep Pro / Rosco
Broce
Steiner
Sunvac
Wayne/Tennant
Tymco
Vacall
Wayne / Vanguard
Superior
If you haven't seen your particular replacement brush in the list above, chances are we still make it! The Street Brush and Broom industry is constantly evolving and their products that go with it. We do our best to keep this list updated. Contact us today for further assistance and more information on our compatible vehicle sweeper brushes.
How the Main Brush is Made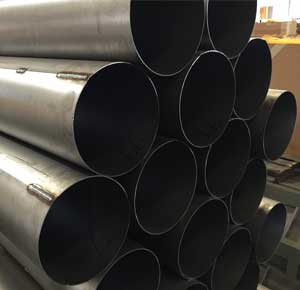 The Main brush is the business end of the street sweeper. Also known as a Main Broom or Tube Brush, this centrally located brush is usually found under or mounted in front of sweeping vehicles. Main brushes are made according to the brand they're associated with. For example, an Elgin Eagle street sweeper takes a specific kind of main brush. The main brush is manufactured at a certain inner and outer diameters and bristle lengths according to the range of the sweeper vehicle. As a result, no two main brushes are alike. If you have a main brush, it'll require some customizing.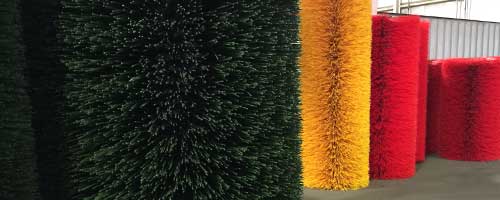 The main brush cores are cold-rolled steel sheets that are welded at the ends to make a steel cylinder. Depending on your make and model of main brush will determine if recess plates, rivets, or bolts would be needed.
There's also been some speculation about the polypropylene dye used. Black bristles doesn't mean it's made of "regrind" plastic. The dyes used color our polypropylene bristles according to the customer's needs. Some vendors prefer to have their brooms color match their brand's logo. With Smith Equipment, we go the extra mile and will help you choose the right color for your main brush. The dye has no effect on the rigidity and durability of the bristles.