The Challenger 1 Front-Mounted Sweeper Attachment
Change your sweeper's brush in under two minutes with one man and no tools!
The best front-mounted sweeper attachment, the Challenger 1, is known for its heavy duty construction and ability to outlast the competition. It is unmatched in on-the-job staying power and durability. The sweeper is hydraulically powered and electrically controlled and its frame can withstand over 5,000 pounds of stress before buckling. The Challenger 1 Sweeper Attachment is designed to survive the toughest, most demanding conditions from the humid Florida sun to the frigid Michigan winters.

It's ideal for a wide variety of applications including road reclamation, snow removal, lawn dethatching, ground harvesting, dirt and debris removal and even runway maintenance! With one of the highest clearances available, the 32'' to 36'' of brush lift will help you get to those hard to reach places with ease and efficiency.

Don't just take our word for it, the good folks and Tyndall AFB conducted a third party study by the U.S. Air Force. See the complete version of the comparison report here.


Horsepower : 40HP +
Sweeping Angle: 40° Right 0-40° Left
Weight: 1,400 lbs.
Oil Capacity: 24 Gallons
Brush Lift: Aprrox. 36 inches
Brush: 35''x7' 100% Polypropylene or 50% Polypropylene and 50% Wire
Brush Drive: Hydraulic
Quickchange™ Brush
Change brush with one person, no tool, and under two minutes.
Grease Fittings and Replaceable Bushings
Self Cooling Oil Reservoir
Extra Heavy Duty Construction
Larger Diamter Brush
PTO Driven Pump
Hydraulically Controlled
Dedicated to answering frequently asked questions for the operators of the Challenger 1 Sweepers.

Coming Soon! Support Forums, FAQ Ask and Answer, Video Guides and more!
This section is currently under construction
Challenger 1 Sweeper Review
Date Purchased: 03/2013
Name: Josie Blacman with Pinnacle Construction
Location: Ft. Myers, FL
Title: Shift Supervisor
When we first started this business, all of our sweepers came from China. We thought saving money was the most important thing so buying a cheaper sweeper didn't seem like a bad idea. Then the motor broke after just 2 hours of use during its first job. To make a long story short, we knew we needed a different sweeper. My brother and I are partners and learned about the Smith Equipment company through a competitor. Not only does the Smith's Challenger 1 sweeper work better than any foreign brand we've used, but it we can finish a broom change in under 3 minutes! This used to take 4-5 hours! We've only had to replace a hydraulic oil cap since one of our employees lost it. So far so good. Thanks Smith!
__________________________________________________________________________
Challenger 1 Sweeper Review
Date Purchased: 06/2014
Name: Jeffrey Dillianger of Jeff's Road Maintenance LLC
Location: Columbia, SC
Title: Owner, CEO
My company specializes in road demolition so when a job comes up for the city it's important we stick to our time tables. When our old sweeper broke down just two months before a municipal construction job, we needed a replacement stat! Luckily we found the Smith's online and they completed a Challenger 1 from start to finish within the two months prior to the job! Not only does this thing work, but it also saves us time and money with the quick change system. Our old sweeper needed three guys and three hours, the challenger 1 sweeper takes a fraction of the time and effort. I'm a Smither for life!

The Challenger 1 Sweeper can also come with:
Hood Mounted Spray System with 125 Gallon Tank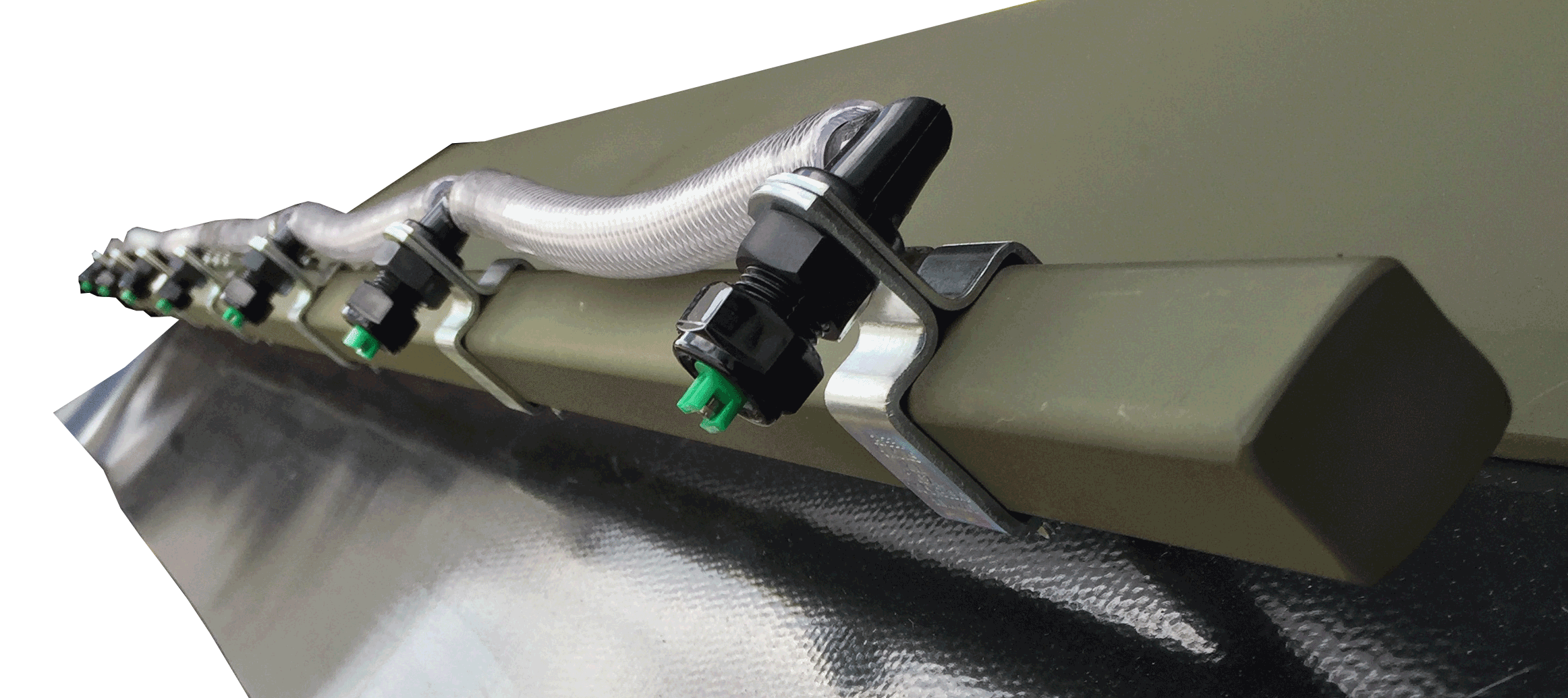 Spray Bar And Tank Systems
This particular option is ideal for construction crews during road reclamation when some of the adjacent road lanes are in use. We currently offer 150 and 225 gallon chemical tanks for the Challenger 1 Sweeper. These tank sizes are usually for tractors, but we can mount smaller capacity tanks for mini and skid steer loaders as needed.

The Challenger 1 Sweeper Attachment comes in two sizes: 77.5" and 89.5" lengths. Spray nozzles are fixed to their support bar every 12 inches roughly. The 77.5" sweeper comes with 7 nozzles. The 89.5" sweeper comes with 8 nozzles.
Learn more about our Sweeper Attachments and Spray Bars
But Wait… There's More!
Our sweeper attachments can produce dust clouds while in use. Due to the dry, arid nature of many roads during sweeping conditions, dust particles are lifted from the surface and made airborne. The continuous sweeping action can cause visibility to be dramatically reduced to only a few feet and can cause a roadway hazard.

To help resolve this, we offer an optional spray bar and tank system for more sensitive applications where visibility and motorist safety is paramount or if dust reduction is called for.